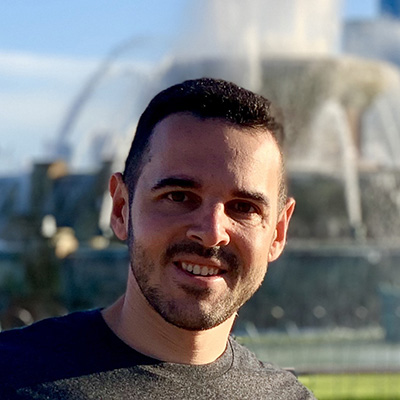 Prof. Thales Vieira

I am an Associate Professor at the Institute of Computing, Federal University of Alagoas (UFAL), Maceió, Brazil. I am currently interested in Machine Learning, Computer Vision, Geometric Modeling, and Pattern Recognition. Lately, my research has been focused on Computer Vision and Natural Language Processing methods to solve real-world applications, mostly through approaches based on Machine Learning, Deep Learning, and Applied Mathematics in general. I am also working on Artificial Intelligence projects for the Justice Court of Alagoas, Brazil (Tribunal de Justiça do Estado de Alagoas, TJ-AL), to develop intelligent tools based on Natural Language Processing; and for Revista Piaui, a popular Brazilian culture magazine. You can find my lattes curriculum here.
On novelty detection for multi-class classification
using non-linear metric learning

Samuel Rocha Silva, Thales Vieira, Dimas Martínez and Afonso Paiva.

Expert Systems With Applications 167, 2021 [doi]
LRCN-RetailNet: A recurrent neural network architecture
for accurate people counting
Lucas Massa, Adriano Barbosa, Krerley Oliveira and Thales Vieira.
Multimedia Tools and Applications 80(4), 2021
[arXiv][doi][read-only pdf][youtube]

Evaluating deep models for absenteeism prediction of public security agents

Edival Lima, Thales Vieira and Evandro de Barros Costa.

Applied Soft Computing 91, 2020 [doi]
Balancing exploration and exploitation: an image-based approach to item retrieval with enhanced diversity
Artur Maia Pereira, Thales Vieira and Evandro de Barros Costa.
Computers and Electrical Engineering 84, 2020
[doi]
RetailNet: A deep learning approach for people counting and hot spots detection in retail stores

Valerio Nogueira Jr., Hugo Oliveira, Jose Augusto Silva, Thales Vieira and Krerley Oliveira.

32nd Conference on Graphics, Patterns and Images (Sibgrapi 2019)
Real-time hand pose tracking and
classification for natural human-robot control
Bruno Lima, Givanildo L. N. Júnior, Lucas Amaral,
Thales Vieira, Bruno Ferreira and Tiago Vieira
International Joint Conference on Computer Vision, Imaging and Computer Graphics Theory and Applications (VISIGRAPP) 2019
[pdf][doi][website][youtube][OCDH database]

Evaluating Deep Models for Dynamic Brazilian Sign Language Recognition

Lucas Amaral, Givanildo L. N. Júnior, Tiago Vieira, Thales Vieira.

23rd Iberoamerican Congress on Pattern Recognition (CIARP) 2018

[pdf][doi][website][Libras-10 database]

Online human moves recognition through
discriminative key poses and speed-aware action graphs
Thales Vieira, Romain Faugeroux, Dimas Martinez, Thomas Lewiner
Machine Vision and Applications 28, 2017
[view-only pdf][doi][mov][youtube]

Estimating affine-invariant structures on triangle meshes

Thales Vieira, Dimas Martínez, Maria Andrade, Thomas Lewiner.

Computer & Graphics 60, Special Section on SIBGRAPI 2016

High Performance Moves Recognition and Sequence Segmentation Based on Key Poses Filtering
Claudio Vicente, Erickson Nascimento, Luiz Emery, Cristiano Flor, Thales Vieira, Leonardo Oliveira
IEEE Winter Conference on Applications of Computer Vision (WACV 2016)
[website]

Simplified training for gesture recognition

Romain Faugeroux, Thales Vieira, Dimas Martínez, Thomas Lewiner.
Online gesture recognition from pose kernel learning and decision forests
Leandro Miranda, Thales Vieira, Dimas Martínez, Thomas Lewiner, Antonio Wilson Vieira, Mario Fernando Campos.
Pattern Recognition Letters 39, 2014
[pdf]

Real-time gesture recognition from depth data through
key poses learning and decision forests

Leandro Miranda, Thales Vieira, Dimas Martínez, Thomas Lewiner, Antonio Wilson Vieira, Mario Fernando Campos.

Sibgrapi 2012
[pdf][mov][youtube][slides][KGD database]
Stereo music visualization through manifold harmonics
Thomas Lewiner, Clarissa Marques, João Paixão, Scarlett de Botton, Allyson Cabral, Renata Nascimento, Vinícius Mello, Adelailson Peixoto, Dimas Martínez, Thales Vieira
The Visual Computer (october 2011)
[pdf][mov][youtube]

Simplificação de malhas triangulares baseada
no diagrama de Voronoi intrínseco

Douglas Cedrim, Adelailson Peixoto, Thales Vieira, Dimas Martínez.

Workshop of Theses and Dissertations of Sibgrapi 2011
[pdf]
Extração de Isosuperfícies Usando Galerias de Design
Augusto Cunha, Lucas Lima, Thales Vieira
Workshop of Undergraduate Work of Sibgrapi 2011
[pdf]

Interactive 3D Caricature from Harmonic Exaggeration

Thomas Lewiner, Thales Vieira, Dimas Martínez, Adelailson Peixoto, Vinícius Mello and Luiz Velho.

Shape Modeling International 2011 (Computer & Graphics 35(3))
[pdf][mov][youtube]
Tuning Manifold Harmonics Filters
Thomas Lewiner, Thales Vieira, Alex Bordignon, Allyson Cabral, Clarissa Marques, João Paixão, Lis Custódio, Marcos Lage, Maria Andrade, Renata Nascimento, Scarlett de Botton, Sinésio Pesco, Hélio Lopes, Vinícius Mello, Adelailson Peixoto, Dimas Martínez
Sibgrapi 2010
[pdf] [mov][youtube]

Geometry super-resolution by example

Thales Vieira, Alex Bordignon, Thomas Lewiner and Luiz Velho

Sibgrapi 2009

[pdf]
Scale-space for union of 3d balls
Alex Bordignon, Betina Vath, Thales Vieira, Marcos Craizer, Thomas Lewiner and Cynthia Ferreira
Sibgrapi 2009
[pdf] [mov]
Learning good views through intelligent galleries

Thales Vieira, Alex Bordignon, Adelailson Peixoto, Geovan Tavares, Hélio Lopes, Luiz Velho and Thomas Lewiner

Eurographics 2009 (Computer Graphics Forum 28(2))
An iterative framework for registration with reconstruction


Thales Vieira, Adelailson Peixoto, Luiz Velho and Thomas Lewiner


Vision, Modelling and Visualization 2007 [pdf]
Automatic surface registration using spin-images

Thales Vieira, Adelailson Peixoto, Luiz Velho and Thomas Lewiner

Workshop of Theses and Dissertations of Sibgrapi 2007
[pdf]
A computational procedure for interpolation of
triangular parametric surfaces


Thales Vieira, Clarissa Marques, Adelailson Peixoto, Hilario Alencar, William Lira, Ailton Cruz

XXVI

Cilamce

'2005

Triangular parametric surfaces reconstruction
using an adapted spr method
Thales Vieira, Adelailson Peixoto, William Lira

II Jornada de Iniciação Científica no IMPA 2005

[pdf]
Resources
Geogebra Univariate Calculus material
Awards
| | |
| --- | --- |
| | PIBITI 2019-2020 Academic Excelence award (advisor) |
| | PIBIC 2017-2018 Academic Excelence award (advisor, x2) |
| | PIBIC 2016-2017 Academic Excelence award (advisor, x2) |
| | PIBIC 2013-2014 Academic Excelence award (advisor) |
| | 1st Prize in Workshop of Undergraduate Work of SIBGRAPI 2014 (advisor) (full story in portuguese) |
| | PIBIC 2011-2012 Academic Excelence award (advisor) |
| | 2nd Prize in Workshop of Undergraduate Work of SIBGRAPI 2011 (advisor) |
| | Silver Medal in II Jornada de Iniciação Científica no IMPA, Instituto Nacional de Matemática Pura e Aplicada, Rio de Janeiro, 2005. |
Teaching
2014.1
Cálculo 1 (Univariate Calculus 1): undergraduate course in Engineering and Computer Science
2014 Summer
Introdução à Computação Gráfica (Introduction to Computer Graphics): scientific initiation course
2013.2
Cálculo 1 (Univariate Calculus 1): undergraduate course in Engineering
Tópicos de Computação Gráfica (Advanced Topics in Computer Graphics): graduate course in Math
2013.1
Geometria Computacional (Computational Geometry): graduate course in Math
Cálculo 1 (Univariate Calculus 1): undergraduate course in Engineering
2012.2
Processamento de Imagens (Image Processing): graduate course in Math
Cálculo 1 (Univariate Calculus 1): undergraduate course in Engineering
2012.1
Análise para Licenciatura (Real Analysis): undergraduate course in Math
Cálculo 1 (Univariate Calculus 1): undergraduate course in Engineering

2011.2
Geometria Computacional (Computational Geometry): graduate course in Math
Cálculo 1 (Univariate Calculus 1): undergraduate course in Computer Science
2011.1
Cálculo 1 (Univariate Calculus 1): undergraduate course in Computer Science
2011 Summer
Introdução à Computação Gráfica (Introduction to Computer Graphics): scientific initiation course
2010.2
Geometria Computacional (Computational Geometry): graduate course in Math
Cálculo 1 (Univariate Calculus 1): undergraduate course in Math
2010.1
Computação Gráfica Interativa (Interactive Computer Graphics): scientific initiation course
Geometria Analítica (Analytic Geometry): undergraduate course in Computer Science
Geometria Analítica (Analytic Geometry): undergraduate course in Physics
Contact
Thales Miranda de Almeida Vieira
E-Mail: thales at ic.ufal.br
Home Page: http://www.ic.ufal.br/professor/thales/

Address:
Universidade Federal de Alagoas, Campus A. C. Simões.
Instituto de Computação
Av. Lourival Melo Mota, s/n, Tabuleiro do Martins.
Maceió, AL - 57072-970
Brasil